Summer is here again.  However, the pandemic is still raging across the country, putting a pause on families' summer break plans yet again.  As the days and weeks now turn into more than a month of social distancing, you may be running out of ideas to keep your children busy during these long days at home. 
Are you desperate to shake up your quarantine routine during your kids' time off from school?  This article suggests some safe staycation alternatives for kids of all ages.  COVID-19 has squashed all summer travel plans and large group gatherings, but it doesn't mean that this summer can not be fun and educational.
Give each day a theme.
Want to make the summer vacation feel different than just long weeks at home?  Give each day a theme!   Without school and appointments, it's hard to know what day of the week it is.  Giving a theme each day is a great way to break up the monotony and add some fun.
Have your child go back through their list and circle the activities they're most excited about, and see if any of them go together or could fill an entire afternoon. Then use their chosen activities to plan a staycation week they won't forget.  For example:
Monday = LEGO day:

there will be 28 million results showing up if you search "lego challenges for kids" on Google.  LEGO challenge is a simple prep, fun way to sneak some STEM learning into the day. A LEGO challenge can be  something like "Build a spaceship" or "Make something inspired by your favorite book." As you can see, they allow for lots of creativity!  And because the challenges are very open-ended, they can easily build something new each time they get to that day on the calendar.  This is an excellent way to keep kids busy during summer break!

Tuesday = Get-crafty day:

Time to get creative!  Arts and crafts are always our go-to activities to spark students' creativity and imagination.  In today's modern world, art is more intertwined with technical fields than ever. And for kids, it's vital to encourage their creativity.  It's easier than you think to grab the crayons, glue, glitter, and paint and let their creativity shine.  All parents need to do is just scout

Pinterest

, and you will see tons of painting projects, inside crafts, and small-scale obstacle courses and activities that'll hold their attention for long periods. Or, if you're able to head to the backyard, there are fun ideas for bubbles, water-based activities, and activities that get their little bodies moving. Best of all, none of these require an electronic device or an app, so you don't have to worry about too much screen time.

Wednesday = Reading day:

Curling up with a good book isn't just safe (and educational!) during quarantine – it can also be a bonding experience.  Take advantage of the downtime and read some new books.  Slot some family reading time into your schedule; if you have kids who aren't quite ready for chapter books, pick a series to start together as a family.  You can also encourage your child and their friends to pick a book they're excited about reading and set up regular video chats for them to share insights, ideas and perspectives. There are a lot of good books with different genres for parents to choose from:
Top 5 bilingual children's books for English beginners

7 books to inspire your kid to be a great leader
Or, if audiobooks are your child's preference, discover our top picks of 6 free audiobooks for kids to enhance reading and listening.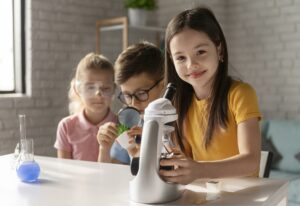 Thursday = STEAM day: For curious kids, try a staycation that includes an element of learning.   STEAM is not so much a topical study as it is an approach to teaching and learning Science, Technology, Engineering, Arts and Math subjects.  Playfully facilitate STEM instruction by creating an at-home science camp. Summer STEAM projects are one of the best ways to keep your kids learning through the summer and have a wonderful time learning in new and creative ways. If you are seeking some cool ideas to create fun and educational STEAM activities for your children, follow Everest teachers on "Online Summer Semester 2021" on Kiến Guru App. Our teachers will deliver free STEAM lessons for children of all ages, live streaming at 3 PM every Thursday this summer! 
Or, if parents are too busy to prepare materials for your kids to do STEAM projects, you can sign your kids up for our STEAM virtual summer camp – where your kid can get a cool package of Space Kit every week and learn how to create wonderful things with teacher and friends through her online class:
Friday = Movie day:

 Summer break means a lot of time together as a family.  Pull out the blankets, popcorn, and your favorite movie.  A movie night gives your family the chance to cuddle together while laughing at your favorite show.  Have your child brainstorm ideas for a dinner theme night every week.  Then, everyone shows up at the table dressed to impress!  And if you need a movie recommendation, check out the

7 best movies for young kids to improve English at home

.
Saturday = Gameday: There's never been a better time to break out Monopoly and Scrabble! Looking for some new board games to add to your collection? These are the year's best family board games.  Break out all your child's favorite games, from classic board games to their favorite video game, and have a marathon.  Board games are also an excellent way to spend quality time with children while helping them enlarge their range of vocabulary; check out our 7 best word games for families to play anywhere!
Sunday = Cooking day:  By getting your kids involved in the kitchen, you'll be setting them up for a lifetime of culinary know-how. At any age, kids who learn to cook gain independence. The youngest in the family can feel a sense of industry, while teens will be empowered to fend for themselves when they leave the nest.  One great way to promote independence and culinary creativity in older grades is to give your children their own cookbook. Once you start looking, you'll find dozens of recipe books geared toward kids this age. Choose one with plenty of pictures and step-by-step instructions. Then, encourage your child to try their hand at making a dish from the book, like a simple side dish or dessert.  And who knows? Maybe you can sneak in some Math lessons during your cooking time.  For example, ask your kids some Math-related questions such as how much of the quantity to be used for cooking, the proportion of different ingredients,…
Watch how Mr. Tony Ngo – Everest Education's Chairman and Co-founder – teach his kids Math while doing some pancakes in the kitchen:
On a side note, don't forget that our kids are used to structure at school, so try to maintain a loose schedule each day.  Put the week's schedule on the calendar.  Have your child draw a picture for each day and post them all in the fridge. Then, talk about your plans at dinner.  In general, use every chance you can to build anticipation.  It'll help your child feel included and excited about the staycation ahead.
Don't forget to keep up with academics.
After this tumultuous school year, some children may have fallen behind with academics. Summer is an excellent time for learning.  Use free resources, including local libraries and online programs:
One of the best ways to keep your child learning this summer is to encourage them to follow their passions. Perhaps they love drawing — dedicate a day each week to art based on children's books. If they love the outdoors, have them build an outdoor fort using math and technical skills. Thinking out-of-the-box can be a fun and memorable way to keep young minds challenged. 
This summer, Everest Education offers Virtual Summer Camp for the first time – in the theme of "SPACE EXPLORER SQUAD." Students will learn using English, Mathematics, STEAM, scientific research, and project development skills on this starfaring journey. These will be the students' first steps in their adventure to reveal the truth of the universe through diverse activities: hands-on science, technology, engineering, art, and math in a 100% all-English environment. 
Using the ClassIn platform (top 50 global ed-tech by GSV), Everest's STEAM Virtual Summer Camp will not like any other meeting platform such as Zoom or Microsoft Teams, students can join live classes, group chats, play games, do quizzes and connect with like-minded friends using innovative learning tools. They can also do projects, make a presentation and receive a detailed report to learn their progress.
 Sign up here
Even though COVID-19 is likely putting a wrench in our plans, there are still plenty of things we can do.  The key is that you get creative and make the most of the situation.  With a bit of ingenuity and initiative, we hope you can create a fun-filled summer that your kids will never forget!