Unboxing a gift on early Christmas morning is an endless joy for every kid!!!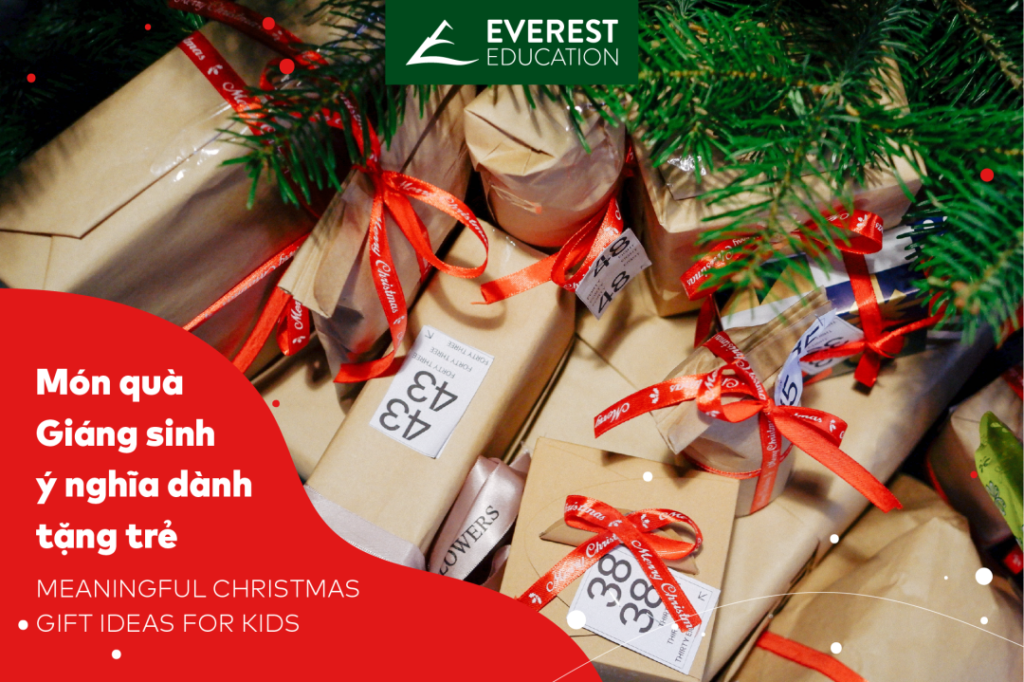 A meaningful Christmas gift for your kids to commend their efforts over the year 2020 is such a wonderful idea. However, choosing gifts for kids is way too overwhelming. Everest Education ("E2") is here to give you some amazing Christmas present ideas to release that stress!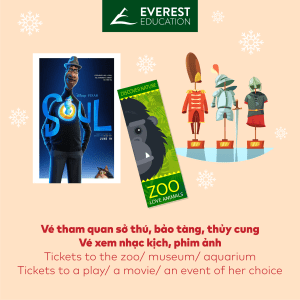 Tickets to the zoo/ museum/ aquarium
Tickets to a play/ a movie/ an event of her choice
Gifts aren't always toys. Give your child an unexpected experience at Christmas with the discovery-tickets. Your kids love animals, a zoo or aquarium is a great option. Or if your kids love art, a play or a movie or to visit the art museum sounds quite interesting!
Grab some ideas:
Fine Arts Museum
Saigon Zoo & Botanical Gardens
Saigon Central Post Office
Idecaf theater
Soul – the Disney/Pixar movie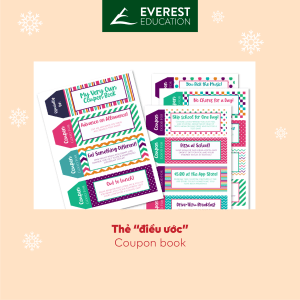 Coupon book
The idea is to give your kids something they really want and that is gift goal! The coupons can be given from mom to dad, child to parent, sibling to sibling, and more. Kids could give a coupon for a long hug, a batch of Christmas cookies, a chore-free day… Give them some of your time and make some fun memories with them with these cute coupons.
How to make a Christmas coupon book:
+ Download free copy of coupon books.
+ Fill in all the information for coupons.
+ Cut them out.
+ Staple them together or use ribbon to form a gift.
Free printable coupons:

https://pjsandpaint.com/wp-content/uploads/2019/12/Christmas-Coupon-Book_PjsandPaint.pdf
http://www.imom.com/wp-content/uploads/2016/12/imom-christmas-coupons.pdf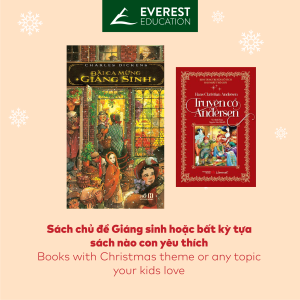 Books with Christmas theme or any topic your kids love
Good books are always a lovely gift to give to your kids on all occasions of the year  There's nothing more valuable than the gift of knowledge! This Christmas, give them some books with Christmas theme or any one of their interests.
Grab some ideas:
A Christmas Carol by Charles Dickens
The Christmas Box by Richard Paul Evans
Andersen's fairy tales by Hans Christian Andersen
How the Grinch Stole Christmas! By Dr. Seuss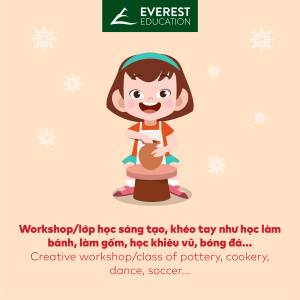 Creative workshop/class of pottery, cookery, dance, soccer…
Offer your child an opportunity to learn a new skill is a great way to shift from toys to more non-toys gifts. It can also reveal hidden talents or spark his desire to learn something new.
Grab some ideas:
Xưởng sáng tạo Noel (Creative Noel Workshop) by CMC Home
Pottery workshop/class by Vườn nhà gốm
Baking workshop/class by Star Kitchen
Dancing class by Saigon Dance, Kids Art & Music Saigon, Calikids Academy,…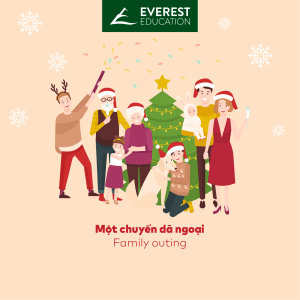 Family outings
Wanna share memories together? Family outing is a perfect one to do. It's definitely a gift that your kids would like to receive this Christmas.
Grab some ideas:
Vietopia, Tatuplay or Family garden
However, due to the Covid-19, parents should consider choosing a safe place for picnic! A suggestion for parents as an alternative to a picnic is that the whole family gather to cook Christmas dinner and enjoy this warmest moment at Christmas.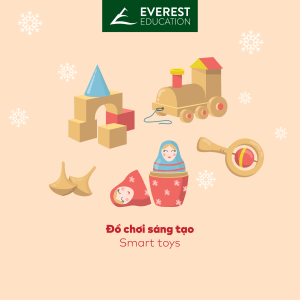 Smart toys
Okay, last but not least, toys as gift! Children will be fond of them. However, there're ways to help your kids both play and learn with toys by choosing creative toys that suit your kid's personality.
Grab some ideas:
Gifts of Creativity
DIY Kits
Arts and Crafts Supplies
Kids Journals
Gifts of Learning & Expanding Horizons
Magic set
Science Kits
Nam châm sáng tạo (Magna-tiles)
A gift of knowledge for your kids, why not? Learn more about our Singapore Math course here.
If you have any other tips for finding meaningful gifts for kids, let us know in the comment!