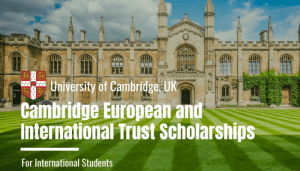 Cambridge European and International Trust Scholarships, UK
The Cambridge Trust Scholarship offers financial assistance to the students who want to commence undergraduate and postgraduate degree programs at Cambridge University. The grants will provide a full tuition fee waiver to the deserving candidates to support their abroad study in the UK. The scholarships are open to study in the following fields: Advertisements, Science, Mathematics, Communications, Engineering, Economics, Environment, Visual Studies, Health, Humanities, Music, Various.
The Cambridge Commonwealth, European & International Trust (The Cambridge Trust) was established on 1 August 2013 from the merger of the Cambridge Commonwealth Trust and the Cambridge Overseas Trust. These were established by the University of Cambridge in the 1980s in order to provide financial support for international students on degree courses at Cambridge.
Detail >>
Vice-Chancellor's Scholarship for International Students, Business Majors at the University of Otago, New Zealand
The University of Otago is offering the Vice-Chancellor's Business Scholarships for international students (up to NZ$10,000 for tuition fees). Vice-Chancellor's Scholarships for international students welcome, support, and recognize the very best international students enrolling in an undergraduate Business degree at the University of Otago. The scholarships are also designed to support those students best placed to make a positive impact on society in their future careers.
The University of Otago is a leading research university that holds a good reputation on the international level for excellence. From business to law, the University of Otago offers a broad spectrum of graduate, postgraduate, and Ph.D. programs to more than 20,000 students. Studying at the University of Otago, candidates will obtain an educational experience, enjoy student services, and take advantage of lots of careers and career opportunities.
Detail >>
Excellence Scholarship & Opportunity Programme / ETH-D Scholarship, Zurich, Switzerland
ETH Zurich (Swiss Federal Institute of Technology in Zurich) is a science, technology, engineering, and mathematics university in the city of Zürich, Switzerland. ETH Zurich supports excellent Master's students with two scholarship programmes: The Excellence Scholarship & Opportunity Programme (ESOP) supports students with a scholarship, mentorship and a network of the ETH Foundation. The scholarship covers the full study and living costs during the Master's degree course. The ETH-D Scholarship contains a partial stipend as well as additional offers by the Department (assistantship or additional scholarship).
Detail >>