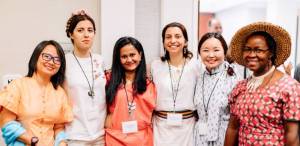 Short term scholarships of The U.S. Department of State Community Solutions Program 2021-2022
The Community Solutions Program (CSP) is a year-long professional development program for people who are working to improve their communities by addressing issues related to energy and the environment, peace and conflict resolution, transparency and accountability, and women and gender. Community activists will be selected to participate in the program that includes: Four-month Fellowship in the United States, Community Leadership Institute, Community-based initiatives.
Detail >>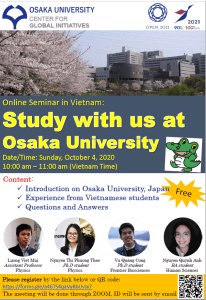 Online Seminar "Study at Osaka university with us!"
As a response to the COVID-19 situation, Osaka University shall organize the Online Seminar in Vietnam "Study at Osaka university with us!" to introduce our university.
The Online Seminar will be held on 4th Sunday, October 2020 at 10:00 – 11.00 am. (Vietnam Time), by Zoom platform. After the seminar, we shall have another session for 30 minutes in the same Zoom link to introduce the Osaka University International Certificate Program (OUICP) which is a new study abroad program just launched. The seminar includes the experience of Vietnamese students now at Osaka University. The seminar will be delivered in Vietnamese. Osaka University ranks among the top 40 universities in the world for Dentistry, Chemical engineering, Physics and astronomy, Natural sciences.
Detail >>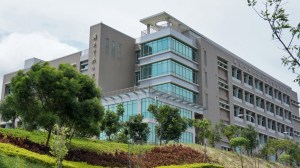 Taiwan's National Chung Hsing University Foreign Students Dual-Degree Scholarships
National Chung Hsing University (NCHU), Taiwan informs you of an exciting new academic opportunity that is available at NCHU. NCHU is launching scholarships for foreign students to study in the dual-degree program. The scholarship offers a monthly stipend, tuition waiver, and subsidy of airfares. The purpose of this Scholarship is to enroll excellent students from overseas and encourage them to study for the dual-degree program. The financial source of the Foreign Students Dual-Degree program Scholarships pilot scheme is from the Project and other subsidies from the Ministry of Education and donations from the School Fund. The sum of the scholarships is subject to change, this scholarship pilot scheme starts from 2021 to 2023.
According to the Web of Science (WoS), NCHU was ranked 1 among domestic universities in the following 6 disciplines: Food Science & Technology / Nutrition & Dietetics / Agricultural/ Multidisciplinary / Agricultural, Dairy & Animal Science / Entomology /Mycology.
Detail >>