Do you know the differences between ESL and ELA, IELTS and TOEFL, SAT and ACT?
As you start navigating the special international education system, you might come across many abbreviations, acronyms and specialized terms such as IB, AP, IGCSE… which makes you feel as though you're wading around in a bowl of alphabet soup, not to mention those acronyms of General English Qualification used by Cambridge Assessment English: KET, PET, CFA, CAE, CPE… and the list goes on.
Acronyms are used a lot in international education systems, everything from descriptors for assessments and curriculum, to individual departments, and to educational legislation are referred to as acronyms. And trying to understand them all is practically like learning a new language, it feels like swimming in a sea of information, legal terminology, curriculums and prerequisite. But don't let that discourage you, we believe parents should take time to learn the differences of these programs and courses, to decide a study pathway that fits perfectly with your child. Go beyond the acronyms everyone knows, like SAT and GPA, to learn additional terms that are relevant and meaningful in international school culture today.
So, to get you started, this article will provide you a brief list of some of the most common terms acronyms used in the education system in the US and UK schools.
IELTS and TOEFL
Let's start with the easiest, and most common terms – IELTS and TOEFL!
IELTS
IELTS is the International English Language Testing System, an exam for non-native speakers of English. There is a general exam and an academic exam. The general exam is often taken by people who want to immigrate to English-speaking countries, especially the UK and Australia. The academic exam is for people who want to go to university in the English-speaking world. It's more popular in countries outside of the US.
TOEFL
The Test of English as a Foreign Language, the TOEFL, is for non-native English speakers who want to go to university in an English speaking country. The TOEFL specifically tests academic English skills. It's particularly popular for people who want to study in the US, but universities in most countries accept the exam.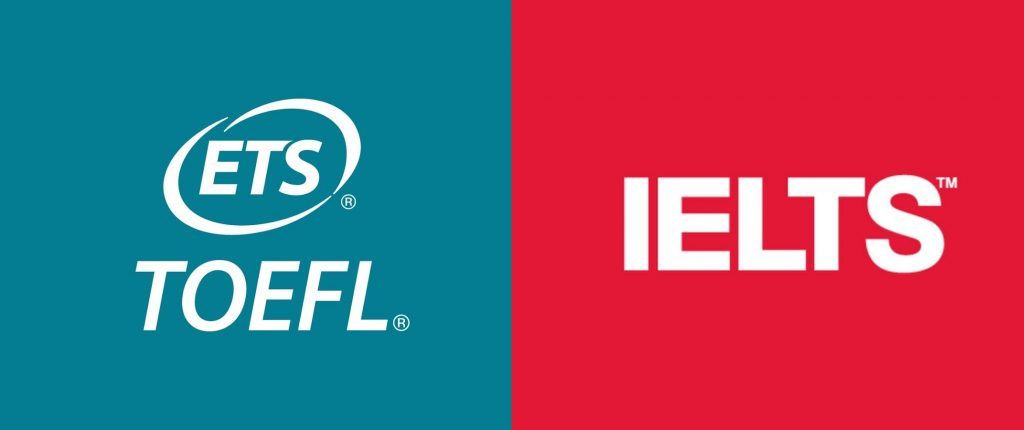 Both the TOEFL and IELTS are widely accepted at undergraduate and graduate schools around the world. In general, TOEFL's structure and language is more academically focused, while the IELTS has a more real-world communication feel. The TOEFL is more commonly accepted by American institutions, while the IELTS is more commonly accepted overseas, but many schools accept scores from either exam. However, a specific school may prefer one test over the other, so international students should make sure they research the preference of the schools they want to apply to.
SAT and ACT
If your child's applying to a college abroad, she's likely going to need to take the SAT or the ACT. The SAT and the ACT are standardized tests that colleges and universities in the U.S. use to decide admittance, along with GPA, extracurriculars, letters of recommendation, and essays.
SAT
The SAT, which stands for Scholastic Aptitude Test, is the older of the two. It was first introduced in 1926. The SAT is intended to forecast a student's ability to perform in her freshman year at college. The test consists of two portions, one measuring students' mathematical skills and the other their verbal skills.
ACT
The ACT, which stands for American College Testing, was introduced in 1959. The ACT is a standardized test to determine a high school graduate's preparation for college-level work. It covers four areas: English, mathematics, reading, and science reasoning. The ACT is a test based on courses you have studied; it is not an IQ test.

While the exams have their differences, they are similarly multiple-choice tests that have reading, writing, and mathematical sections. The SAT attempted to test a student's
aptitude
– that is, a student's
ability
to learn – while the ACT was much more pragmatic. The exam tested students on the information they actually learned in school. >> Check out the detailed differences between SAT and ACT in our older blog post:
Key differences between the SAT and ACT: which test is right for you?
ESL, EFL, and ELA
Hundreds of thousands of students around the world also take ESL, English as a Second Language, sometimes known as EFL, English as a Foreign Language, while native students still have to learn ELA. So what do they mean?
ESL
ESL stands for English as a Second Language. This acronym has been traditionally used to describe non-native English speaking students who are studying English in a country where the first language is English. For example, if a Japanese student came to London to study English, this student could be referred to as an ESL student or someone who is studying ESL. ESL students acquire English as a means to communicate in the dominant language spoken in the community where they reside.
EFL
EFL, shorts for English as a Foreign Language, is learning English in a non-English-speaking country. For example, students in China who are learning English are considered EFL students because English is not the official language of the country. But if those same students were in the U.S. learning English, they would be considered ESL students.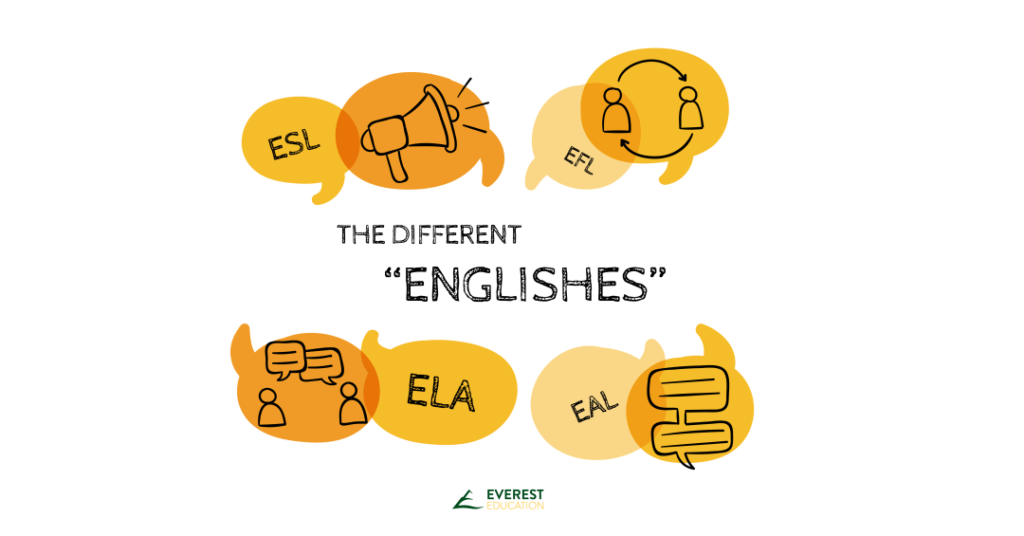 ELA
ELA stands for English Language Arts, is the type of English taught in English-speaking countries. ELA focuses on all areas of language development (including listening, speaking, reading, writing, grammar, and pronunciation), and ELA classes cover all manner of things related to the English language, from literature to grammar to how to write a punchy essay. You can imagine native students learn ELA just like Vietnamese students learn Literature at schools – even though Vietnamese is our mother tongue, students still have to learn "Vietnamese Language Arts" in order to make meaning, use language effectively in a variety of content areas and succeed in college, career and life.
Most families don't understand that there are
different "Englishes"
. They mistakenly believe that studying at any of the numerous learning centers for conversational English, IELTS, and TOEFL is good enough. In Vietnam, we have found that "English Language Arts" remains a new concept to most parents. ESL is somewhat similar to an ELA class, because students learn reading and writing in English. However, the focus is more on the building blocks of the English language – the foundations that will make it possible for students to succeed in international professional areas of study and in life beyond school.As soon as your child can use everyday conversational English, challenge her to learn just like a native American student with
English Language Arts
.

General English Qualification by Cambridge Assessment English: KET, PET, FCE, CAE, and CPE
KET, PET, FCE refer to Cambridge exams for teenagers, after they finish Cambridge Young Learners English (YLE), including Starters, Movers and Flyers – normally for children from 6 to 12 years old.
KET
KET is also known as the Key English Test (KET) or Key English Test for Schools (KETfs). This qualification shows that you can communicate in basic English in everyday situations. This is an Elementary level exam that tests the ability to use basic linguistic constructs in conversation and writing. If you understand simple texts, short phrases and can communicate in situations that are familiar to you- the KET exam is for you.
The Cambridge A2 Key certificate enables you to work abroad in some countries (for example, Denmark and the Netherlands) in areas that do not require advanced language skills.
PET
PET is known as the Preliminary English Test (PET) or Preliminary English Test for Schools (PETfs). This is an Intermediate level exam that shows that you can communicate in English in practical, everyday situations. It will give you a good foundation if you want to study for a professional English qualification. If you can read simple books and articles, write simple letters, and communicate on common topics, then this exam is for you.
Level of qualification: Intermediate = B1 on the Common European Framework (~IELTS 4 – 4.5 or TOEFL iBT 57 – 86)
B1 Preliminary (PET) will suit you if you plan to work or study abroad. Also, this exam can become an important experience and preparation stage for higher-level examinations.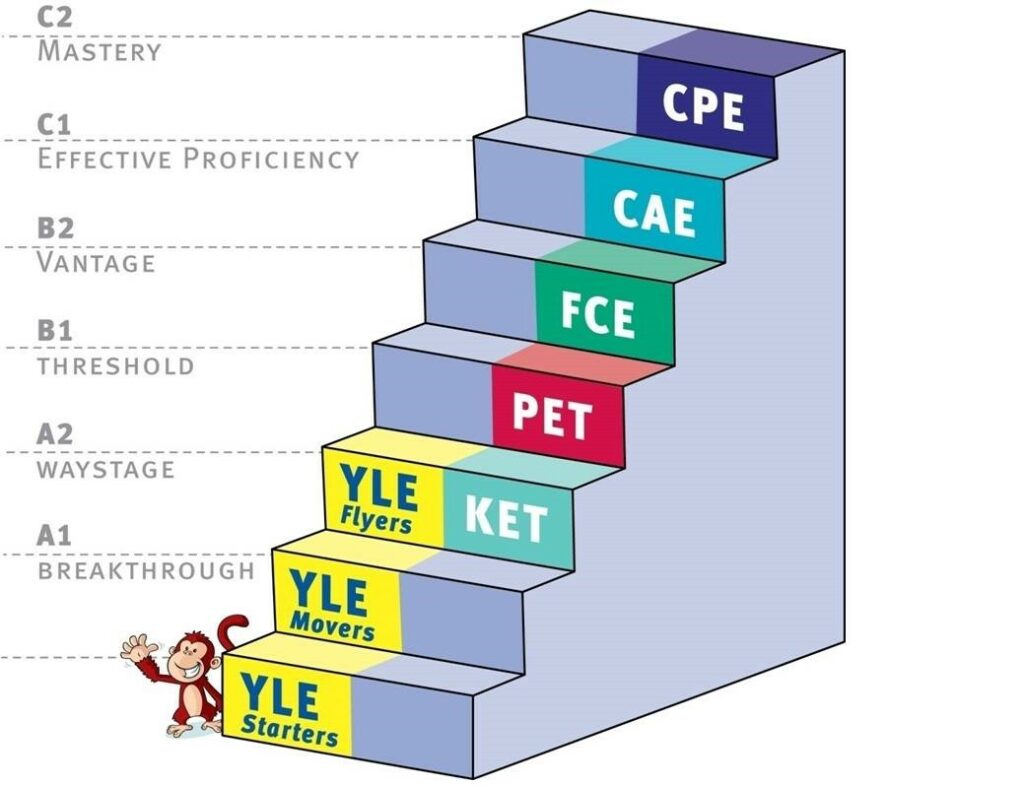 FCE
FCE is also called the First Certificate in English or First Certificate in English for Schools (FCEfS). This is an Upper-Intermediate level exam to prove that you can speak and write English well enough to work or study in an English-speaking environment. If your English level is good enough for use in daily communication, business, and education, then B2 First (FCE) is an exam for you.
Level of qualification: Upper-intermediate = B2 on the Common European Framework (~IELTS 5 – 6.5 or TOEFL iBT 87 – 109)
FCE is the perfect choice for those who want to work in an English-speaking business, live in an English-speaking country, or study a foundation-level or pre-university course taught in English.
CAE
CAE is also known as the Cambridge Advanced Certificate in English. This general English qualification shows that your English is of a standard expected of a professional business person or an undergraduate university student.
Level of qualification: Advanced = C1 on the Common European Framework (~IELTS 7 – 8 or TOEFL iBT 110 – 120)
CAE is for students or adults who want to prove to employers or universities that you can communicate confidently in English in professional and high-level academic situations.
CPE
CPE is also known as the Cambridge Certificate of Proficiency in English This qualification shows that you have mastered English and can use it fluently in demanding research, academic and professional situations. This is the highest Cambridge English qualification.
Level of qualification: Proficient = C2 on the Common European Framework (~IELTS 8.5 – 9)
You should take the CPE if you want to prove to employers that you can use English at a senior management level, or if you want to study at postgraduate or Ph.D. level at an English-speaking university.
While both the Cambridge exams and the IELTS test all four major English skills – reading, writing, listening, and speaking, there are quite a few differences between them.The main difference between the Cambridge tests and the IELTS is that while there is only one IELTS for every level, the Cambridge tests are level-oriented. The CAE is aimed only at advanced English speakers, those falling into the B2 to C2 range. IELTS and TOEFL scores, on the other hand, will place your English ability anywhere among the A1-C2 range. Therefore, beginners or intermediate English speakers should not attempt the CAE.Another point worth considering is that while IELTS or TOEFL score will be valid for just two years after the test date, Cambridge certifications do not have the expiry date, therefore you will have unlimited time to pursue your study and employment goals. For more detailed information, you can go onto the Cambridge exams website:
www.cambridgeenglish.org
(continue…)